The injury edition of Fantasy Premier League: The Comprehensive Guide  will cover five players who are injured currently, and their optimal replacements for the final three weeks of what have been a scintillating Premier League campaign.
Arsenal will be faced with easy fixtures as the season draws to a close, so don't be surprised if majority of the suggestions presented this week are geared towards the Gunners' team. I'm a Gooner, but no bias has been involved when writing this guide, rest assured.
Arsenal players will return a good sum of points when played correctly, and they usually fall in the mid-range price bracket, allowing you to shore up other departments in your team.
Before we dive any further though, let's take a look at this week's fixtures.
Southampton v Everton
Southampton have failed to score in the two games Jay Rodriguez has missed since his knee injury. Goals will certainly be even harder to come by as they face the Toffees in this week's early kick-off, who have kept three clean sheets in their last four Premier League games.
Fulham v Hull City
Fulham's 6-0 hammering at the KC Stadium in December remains their biggest ever Barclays Premier League defeat. Hull have won four of their five previous Barclays Premier League meetings with Fulham; their best win rate against any side in the competition (80%).
Stoke City v Tottenham Hotspur
All five Barclays Premier League meetings between these sides in Stoke have ended 2-1, with the Potters winning two and losing three.
Swansea City v Aston Villa
Aston Villa have conceded only 21 goals away from home this season, eight fewer than league leaders Liverpool (29) have, but they have also gone three hours and 20 minutes without scoring a Premier League goal.
West Bromwich Albion v West Ham United
West Ham have not kept a clean sheet in any of their last nine league games; the longest current run in the division. Not entirely good news for the Baggies though as they have only won one of their last 10 Barclays Premier League meetings with the Hammers (D5 L4).
Manchester United v Norwich City
Manchester United have had more goals in the second half in their last seven matches against Norwich, but the Red Devils have conceded first in their last four home matches.
Sunderland v Cardiff City
Cardiff are the only team yet to concede an own goal in the Premier League this season. The Black Cats, in contrast, have conceded more than any other side in 2013-14 (6).
Liverpool v Chelsea
A win in this game will see the Reds equal their best ever run of wins set in the top-flight (12 in 1990). Fernando Torres is yet to score in 337 Premier League minutes against former club Liverpool in the Premier League.
Luis Suarez needs five goals in Liverpool's last three games to set a new record for a player in a single Premier League campaign, while his team need only four more goals to become the 30th instance of a top-flight team scoring 100 goals in a single season (and only the second since the 1960s).
Crystal Palace v Manchester City
Palace's rate of 1.54 points per goal in the Premier League is bettered by only one team in Premier League history (Leeds 1.64 in 1996-97). Manchester City have claimed just eight points from their last five Premier League away games after gathering 12 from the previous four.
Arsenal v Newcastle United
Arsenal have won their last four Barclays Premier League meetings with the Magpies; their best ever run against them in the competition.The Magpies have lost eight of their last 10 Barclays Premier League games at Arsenal (W1 D1); losing 7-3 there last season.
*Stats provided by Opta.
---
How Did My Recommendations Fared Last Week
In-Gambles:
Sergio Agüero – 12 points
– Minutes played: 63 (2 points)
– Assists: 1 (3 points)
– Goals scored: 1 (4 points)
– Bonus points: 3
Adam Johnson – 2 points
– Minutes played: 65 (2 points)
Jason Puncheon – 3 points
– Minutes played: 86 (2 points)
– Clean sheet (1 point)
Out-gambles:
Romelu Lukaku – 5 points
– Minutes played: 90 (2 points)
– Assists: 1 (3 points)
Replacements: Sergio Agüero (12 points), Rickie Lambert (2 points)
Kevin Mirallas – 9 points
– Minutes played: 90 (2 points)
– Goals scored: 1 (5 points)
– Clean sheet (1 point)
– Bonus points: 1
– Groin injury (out for the season)
Replacements: Juan Mata (2 points), Aaron Ramsey (14 points)
---
1. Wojciech Szczęsny (for Petr Cech)
– Team: Arsenal
– Position: Goalkeeper
– Value: £5.8m
– Selected by: 12.7%
– Total score: 144
– Points from last 4 games: 15 (avg. 3.75 ppg)
– Remaining Fixtures: Newcastle United (H), West Bromwich Albion (H), Norwich City (A)
To be honest, I wasn't expecting Arsenal to win at the KC Stadium last weekend. I was so confident that I was contemplating fielding a 5-man defensive line-up including Liam Rosenior of Hull City, feeling sure that my defense was going to get some serious points this week. Thankfully, my logic pulled me back, and I substituted Rosenior with Aaron Ramsey. Did it pay off?
The points difference between them was 13.
Following Arsenal's display against a resilient Hull, they're showing signs that they will end the season with somewhat of a bang. With Ramsey back, the whole team looks so rejuvenated, I was in complete shock. It's not really a secret that Arsenal couldn't function without a pivotal midfield captain like Mesut Ozil or Aaron Ramsey, who were both out with injuries till recently.
With more attacking intent, and a defense whose morale got some much-needed boost, Arsenal will be unlikely to be on the backpedal and defending much for their remaining fixtures. Although Arsenal has the annoying habit of allowing their opponents plenty of space to shoot every once in awhile, I doubt their last three matchups of Newcastle, West Brom, and Norwich will be able to do much to them, especially when only the last game is played away from the Emirates Stadium.
As such, Szczęsny will be expected to get 18 points, meaning a clean sheet for every match, in the closing stages of the Premier League. Per Mertesacker and Laurent Koscielny have done pretty well recovering in recent games, hence I'm confident the Polish goalkeeper will be provided with top-quality protection in his next three games.
The spirit is high throughout the Gunners camp. It'll be plain painful to watch if they self-destruct in the next few weeks. I just can't see them slipping in their remaining showdowns, especially when key players are making swift returns.
I hope I'll be proven correct. #COYG
Another suggestion: Asmir Begovic (£5.4m, Stoke City)
Begovic has been rock-solid for Stoke in recent weeks, chalking up 26 points in his last four appearances for the Potters. WithTottenham, Fulham and West Brom in check, the 2nd most in-form keeper (behind Julian Speroni, whose Palace side will be facing Manchester City, Liverpool and Fulham) should be expected to get at least 14 points from his remaining matches as the Premier League draws to a close.
2. Laurent Koscielny (for John Terry)
– Team: Arsenal
– Position: Defender
– Value: £5.4m
– Selected by: 7.0%
– Total score: 129
– Points from last 4 games: 9 (avg. 4.5 ppg, 2 games out with injury)
– Remaining Fixtures: Newcastle United (H), West Bromwich Albion (H), Norwich City (A)
Why Koscielny? Same reason as Szczęsny really.
I favor Koscielny over Mertersacker because the latter costs £0.7m more than the former, and their difference in points have never been significantly huge throughout the season.
The more agile Koscielny have been able to put in an average of 11 defensive actions per game, two more than what his German colleague amassed in this campaign.
On a less impactful comparison, the big German has more serious discipline issues than Koscielny, with more fouls and more yellow cards to show for it.
The remaining sums accured by the sale Terry will add about a cool £1.3m into your bank account, which you can use to upgrade the other departments in your squad, or follow the upcoming suggestions if this selection doesn't really affect your team that much.
Another suggestion: Branislav Ivanović (£6.7m, Chelsea)
I have been campaigning for Ivanovic over Terry throughout the season, partly because of his better point hauls, better potential for assists, and his lower price point compared to his compatriot. Now, unfortunately, his price has soared by quite a bit, but it's another option if you want to stick to a Chelsea defender. If you have quality subs though, you might want to consider playing them this week, or alter your formation a li'll to accommodate midfielders/forwards with better fixtures, as the Blues will take on Liverpool, whom will very likely put at least two past them.
3. Raheem Sterling (for Kevin Mirallas)
– Team: Liverpool
– Position: Midfielder
– Value: £6.0m
– Selected by: 15.0%
– Total score: 122
– Points from last 4 games: 30 (avg. 7.5 ppg)
– Remaining Fixtures: Chelsea (H), Crystal Palace (A), Newcastle United (H)
The red-hot Sterling is a better alternative than Kevin Mirallas any day.
Widely tipped as the best young player in Europe right now, the young Englishmen have dazzled with his skills and trickery, launching himself into the spotlight with three goals and one assist in his last two games.
Although the Fantasy Premier League website lists Sterling as a midfielder, fortunately for us, Brendan Rodgers pushes him up into a more advanced position to support Suárez on the wing, and with Daniel Sturridge out with a hamstring injury, and Jordan Henderson out with suspension till the 11th of May, Sterling will be entrusted with more attacking responsibilities, which means, ka-ching.
The sale of Mirallas should allow a profit of at least £1.1m, which can be use to bolster up your funds as you prepare for the vital double round of fixtures in Gameweek 37.
The only dilemma I have right now is that whether the 19 year-old midfielder should be drafted in this week or after the showdown against Chelsea. With home advantage, Sterling will stand a very good chance of notching himself some solid points this week, especially after his impressive display against Norwich.
However, like what Mourinho has done throughout the season, which was superbly illustrated in their 1st leg of the UEFA Champions League semi-final clash with Atletico Madrid, the Blues will very likely be instructed to park the bus, and content with soaking up pressure and launching quick counter-attacks on the break, before upping the pressure in the second half. Sterling might run into some trouble.
However, from another perspective, John Terry is out for the season. His likely replacement, the enigmatic David Luiz, will find it hard to follow the quick-footed Sterling, and so will Gary Cahill, who isn't exactly known for his ability to keep defenders from advancing past him.
For me personally, it's worth the wait. Sterling hasn't really proven himself against big opponents, and a negative four points defecit might work against you as you chase down the league leaders in your respective mini-leagues. I have a feeling old veterans like Stevie G, who has been so pivotal this season as he leads his team towards the title and so much to lose, will outshine the forwards, with a couple of assists, or even some goals as well. Downside however, will be a huge opportunity missed to get some serious points, and having to deal with a sharp price increase, but it's safer to just wait till next week where Liverpool will face off against their less formidable opponents, Crystal Palace and Newcastle.
Another suggestion: Aaron Ramsey (£7.4m, Arsenal), Christian Eriksen (£7.2m, Tottenham Hotspur)
We have highlighted Aaron Ramsey in the previous article in the exact same swap scenario, so if you haven't listened, wow, you missed out on a lot. Like really.  Another option will be the mighty Dane himself, Christian Eriksen. Tottenham are armed with a rather relaxing schedule, with a match at White Hart Lane against Aston Villa on the final week of the 2013/14 season. Eriksen is also cheaper than Mirallas, so purchasing him will have you slightly having more funds in your account to shore up the quality of your other departments.
4. Lukas Podolski (for Daniel Sturridge)
– Team: Arsenal
– Position: Forward
– Value: £7.9m
– Selected by: 3.3%
– Total score: 82
– Points from last 4 games: 33 (avg. 8.25 ppg)
– Remaining Fixtures: Newcastle United (H), West Bromwich Albion (H), Norwich City (A)
An astonishing 24.3% of Fantasy managers still have Daniel Sturridge in their rosters, and to me that's a pretty miscalculated tactic.
Although Sturridge will most likely make an appearance in this week's pivotal showdown against Chelsea, his playing minutes will probably be limited due to his fitness levels and the fact that he just recovered from an injury. With a place in Roy Hodgson's England squad safely booked, it'll be a little surprising that the young Englishman will risk an injury that will prevent him from heading to Brazil this summer.
Also, Liverpool should be able to do well with or without Sturridge. Although his early-season form was nothing short of spectacular, the scoring duties were swiftly transferred to Luis Suárez after his return to injury. He registered a basic two points in his previous three appearances for the Reds, and as I've explained in my previous articles, Liverpool's formation and playing style right now doesn't allow Sturridge to get solid points like he used to.
With Sterling on red-hot form as well, I don't see Sturridge coming out of this week's fixtures with anything more than five points. The sale of him right now will free up some funds for a decent replacement, and I'll recommend Arsenal's forward Lukas Podolski, who has been phenomenal for the Gunners in his past three games.
He's deployed up front right now with Olivier Giroud, compared to a relatively ineffective station on the wings. Giroud is more of a holding player, which was clearly illustrated in last week's morale-boosting 3-0 win away at Hull City where he only got himself two points compared to Podolski's second consecutive 13.
Podolski is also cheaper than Giroud by £0.6m, so it's pretty obvious that he represents a better deal compared to the Frenchman. With a breezy fixture list to end yet another what-could-have-been season, the German's fine form will probably stretch till the end of the campaign as well.
Another suggestion: Wilfried Bony (£7.2m, Swansea City)
Although not exactly the most consistent player, Bony does make up for it with his industrious performances on the pitch, which will reward handsomely every once in a few games. The problem, therefore, lies in which match will the Ivorian striker strike up his magic. This might be a really tough question that involves a lot of assumptions and analysis in the beginning of the season, but with Swansea facing Aston Villa and Southampton at home, along with a trip to Sunderland to follow, I don't see Bony achieving anything lower than 18 points for his future efforts against these three opposition.
I got Jia Le to contribute again this week, and this is his suggestion for Gameweek 36.
5. Aaron Ramsey (for David Silva)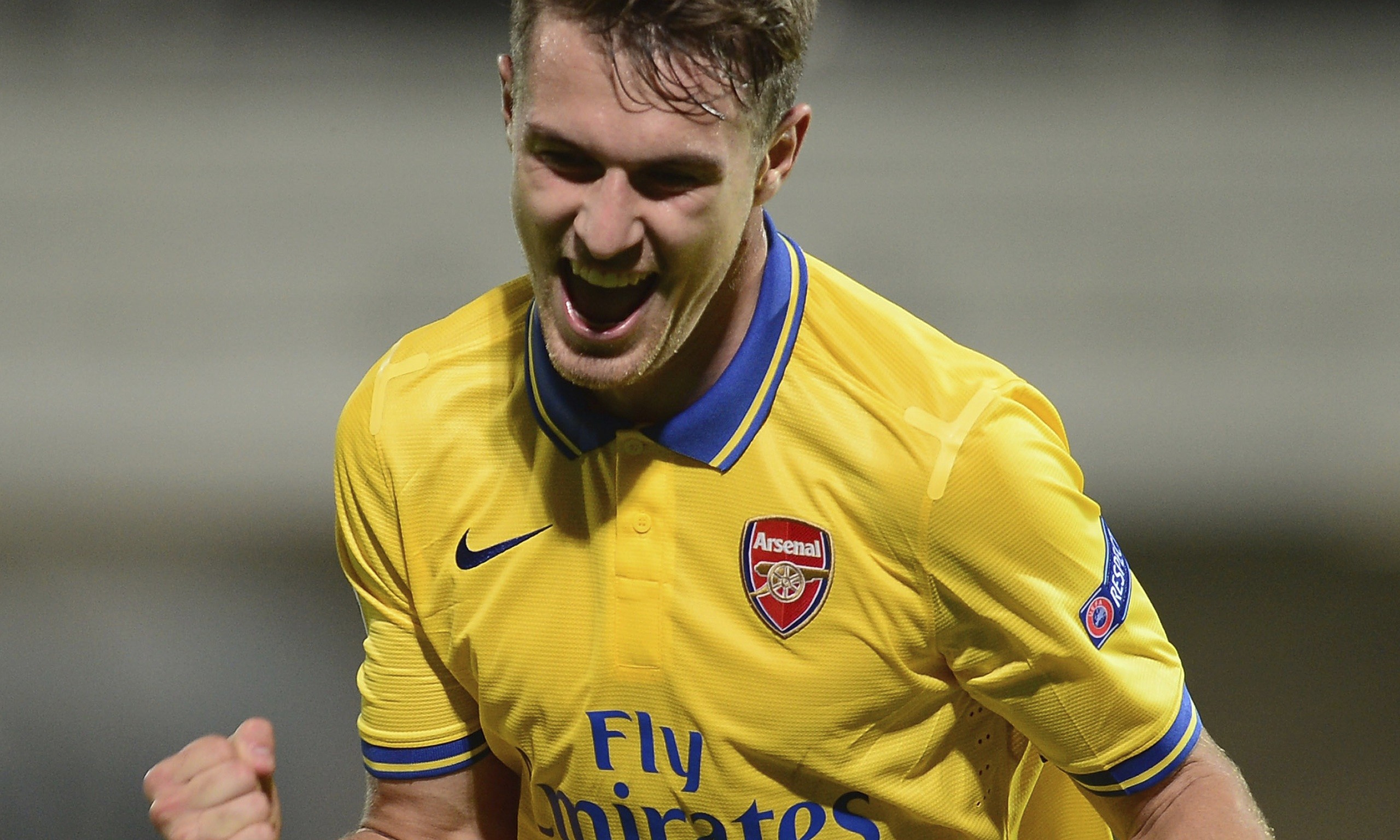 – Team: Arsenal
– Position: Midfielder
– Value: £7.4m
– Selected by: 29.2%
– Total score: 134
– Points from last 4 games: 21 (avg. 5.13 ppg, 1 game out with injury)
– Remaining Fixtures: Newcastle United (H), West Bromwich Albion (H), Norwich City (A)
 He's back.
The name's Aaron, but everybody remembers Ramsey. Earlier this season, he scored goals like there was no tomorrow and catapulted Arsenal to the top of the table where they stayed there for 128 days. At one point, over 60% of FPL managers had him in their squad. However, he picked up an unfortunate injury that kept him out for 14 games, eventually causing Arsenal to miss out on the title race (and potentially a Champions League spot) as they dearly missed his enthusiasm and energy levels.
Fret not, Arsenal fans. He came back with a bang, collecting a whopping 16 points in his first full 90 minutes after returning to the squad at the KC Stadium against Hull City. This is possibly good news to FPL managers too as Arsenal have momentum on their side in the final run-in for Champions League football next season, facing teams like Newcastle and West Brom at home.
I'm captaining him this Gameweek, and you should at least pick him up while he's still cheap.
Another suggestion: Phillippe Coutinho (£8.5m, Liverpool)
Coutinho is one of the shrewdest purchase of the 2013/14 Premier League season. At just £11m, he's an absolute bargain in retrospect, with his numerous contributions that are often overshadowed by Suárez's equally amazing exploits. As mentioned earlier, Liverpool have favorable fixtures after their match against Chelsea, which is going to be played at Anfield. Home advantage is really crucial in big, potentially title-deciding games, and I expect Liverpool to come out from the match with a comfortable victory, with the chief architect being the skilful Brazilian.
---
Captain Who? Lukas Podolski.
Podolski has been in excellent form for the past few weeks, which just begs the question. Why didn't Arsene Wenger choose him over Olivier Giroud to lead the offensive lines. The evidence are right there. His performances in the FA Cup have been consistent and reliable, so it's puzzling as to why Podolski is only allowed to play in his preferred position only now.
Anyway, the match against Newcastle will bound to have plenty of goals in store. Arsenal have a positive, or negative, depending on how you look at it, habit of finishing their seasons strongly, With a easy schedule as mentioned above, it looks like the tradition wouldn't be changing any time soon.
Newcastle have only scored two goals in their last seven league games, both which came from games against lower opposition. Against a pumped up Arsenal side who are desperate to finish the season on a strong note, it looks like their defense, which have conceded 15 times during the same period of time, are going to be torn apart yet again.
Giroud will very likely be involved in the playmaking this time round, Suárez is facing against Chelsea, who will unquestionably go all out in this crucial must-win game, and Agüero is playing Palace at Selhurst Park, so coupled with home advantage, I'm going for Podolski to continue his rich vein of form as of late.
If you do not have the 28 year-old forward in your team, or simply disagree with the selection per se, here are some other suggestions you can consider as well:
– Aaron Ramsey (Arsenal) vs Newcastle United (home)
– Wayne Rooney (Manchester United) vs Norwich City (home)
– Sergio Agüero /  Yaya Touré (Manchester City) vs Crystal Palace (away)
I'm getting really tired of explaining how good Ramsey is, so I'm just going to leave it as it is and let you guys figure out yourselves if you want to captain him in this week's clash against the struggling Magpies.
Wayne Rooney is back from injury, despite repeated rumors of him suffering a season-ending injury some time last week. With David Moyes just sacked and the whole team tipped in an unbalanced fashion, Rooney will be inevitably drafted in for at least 80 minutes, and against a team like Norwich City, a repeat of their 4-1 victory against Aston Villa in recent weeks will very much be a distinct possibility.
Yaya Touré is finally back, and with David Silva and Jesus Navas still out injured, an impressive point haul in Gameweek 36 is for the big Ivorian to lose.
Crystal Palace have been dominant in their past couple of matches, so I think there might be a minute chance that they will stifle City's expensively-assembled midfield and escape with a narrow victory like they did against Chelsea.
The away nature of the match is a big turn-off for me personally, as City has done relatively bad on their travels. It'll take some more time for City to readjust their footings and making the correct, necessary decisions, so I'm not expecting a high-scoring performance for City strikers this week.
However, anything can happen in football. If Joel Ward and co., who have been putting in absolutely brilliant shifts in defense for the past few weeks, inexplicably lose their concentration, you'll end the week with a big, big grin on your face.
Last week's recommendations:
– Sergio Agüero , Manchester City: 24 points
– Luis Suárez, Liverpool: 16 points
– Alvaro Negredo, Manchester City: 0 points
Do you have any replacements to suggest? Feel free to drop a comment in the comments section below. All the best in Gameweek 36 guys!