It has finally come down to this. The final two weeks of the campaign. For most teams, they'll be making their final tweaks and changes as their roster prepares for the final two matches. However, for some teams, this week will prove to be an insanely pivotal week for them to win in the catch-up game, be it in the title race, or the cruel, relegation battle. In this week's feature, we'll highlight five players, who will bring their team pride and glory, and help their club to fight another season.
---
How Did My Recommendations Fared Last Week
Injury Replacements
Wojciech Szczęsny – 7 points
– Minutes played: 90 (2 points)
– Saves: 3 (1 point)
– Clean sheet (4 points)
Alternative: Asmir Begovic (3 points)
Laurent Koscielny – 13 points
– Minutes played: 90 (2 points)
– Goals scored: 1 (6 points)
– Clean sheet (4 points)
– Yellow card (-1 point)
– Bonus points: 2
Alternative: Branislav Ivanović (7 points)
Raheem Sterling – 2 points
– Minutes played: 90 (2 points)
Alternatives: Aaron Ramsey (2 points), Christian Eriksen (3 points)
Lukas Podolski – 2 points
– Minutes played: 90 (2 points)
Alternative: Wilfried Bony (12 points)
Aaron Ramsey – 2 points
– Minutes played: 73 (2 points)
– Clean sheet (1 point)
– Yellow card (-1 point)
Alternative: Philippe Coutinho (2 points)
---
Wayne Rooney (and Juan Mata)
– Team: Manchester United
– Position: Forward, Midfielder
– Value: £11.7m, £9.6m
– Selected by: 18.3%, 15.6%
– Total score: 190, 113
– Points from last 4 games: 28 (avg. 7 ppg), 46 (avg. 11.5 ppg)
– Remaining Fixtures: Sunderland (H), Hull City (H), Southampton (H)
Wayne Rooney is kinda a must have for this week's double round of fixtures.
Having scored four times in his last four games, not only is he on fire, but he'll also be playing against relegation contenders Sunderland, who surprisingly are in quite a bit of form right now, and Hull City, who shouldn't really pose much of a problem after conceding eight times in their last five fixtures. Besides, both games are going to be played at Old Trafford.
It's nice, meanwhile, to see the affable Juan Mata enjoying his football once again. And there's really no one that can stop him when he's enjoying his football. Five goals and two assists in his previous four games pretty much highlights the devastating impact his presence and form could bring for his opponents.
Ryan Giggs have announced the start of his tenure as temporary manager of Manchester United with a rather loud bang, with his Red Devils thumping four goals past a helpless Norwich side. Juan Mata and his teammate Wayne Rooney were responsible for two goals apiece, which is unsurprising considering how the duo have fared excellently when paired to face against lower opposition.
Against the match against Aston Villa, Rooney scored twice, while Mata chalked up a goal and an assist as the duo notch up a combined 25 points during Gameweek 32. Against Newcastle United a week later, the Spaniard scored twice and assisted once, while Rooney, well, he didn't play that week. Against West Bromwich Albion though, which United dominated 3-0 just a week before the Aston Villa clash, the 28 year-old English international scored and assisted once each, and he followed that up with another 13-point performance with a fine solo performance against West Ham United that ultimately decided by two goals from the Englishman.
Sunderland, while having scored eight times in their past three fixtures (wow, never imagined myself saying that ever), which consisted of an impressive 2-2 draw against Manchester City at Manchester City, and an even more impressive 2-1 victory over Chelsea, at freaking Chelsea. Oh my, and to follow that up, they thrashed fellow strugglers Cardiff City at the Stadium of Light last week with absolutely no mercy.
However, I expect their run to end at Old Trafford, because Ryan Giggs actually realises that Shinji Kagawa is in the Manchester United team, and that there were other attacking strategies other than frantic crossing (shocking).
The last time this two sides met was back in October 2013, and the affair ended with a 2-1 scoreline in favor of the Red Devils. This time round though, the margin will definitely be bigger, but the team to win it will remain the same.
Hull City is next, and with the Tigers having lost 3-0 to Arsenal at home, I really don't fancy their chances of getting a win over United at their home ground.
United's woeful season ends with a home encounter with overachievers Southampton. The Saints will be a tougher opponent than Sunderland and Hull, but with United's form and morale expected to rise significantly after Gameweek 37, it seems extremely likely that the men in red will want to end the season on a high note.
It's going to be a great three weeks for Rooney.
Yaya Touré (and Sergio Agüero)
– Team: Manchester City
– Position: Midfielder, Forward
– Value: £10.3m, £12.7m
– Selected by: 36.2%,16.5%
– Total score: 218, 150
– Points from last 4 games: 15 (7.5 ppg, 2 games out with injury), 19 (avg. 4.75 ppg)
– Remaining Fixtures: Everton (A), Aston Villa (H), West Ham United (H)
Yaya Touré is going to be the deciding factor on whether City will manage to steal the title from Liverpool at the very death.
When Aguero was constantly plagued by injuries, Touré took over the attacking responsibilities, scoring goals and creating chances. After missing two games with injuries, the big Ivorian smashed home a goal and notched an assist in a brilliant 14-point performance against a not-too-shabby Crystal Palace side.
Touré's price tag has dropped massively by £0.5m after he was struck by an unfortunate injury a few weeks back against Southampton. Standing at just £10.0m, it's pretty much a no brainer and an absolute bargain to purchase the most consistent midfielder in the Fantasy Premier League this season. And with double fixtures against Everton, whose morale is severely dented after losing two of their last three games to allow Arsenal to open up a four-point gap in the fight for fourth-place, and a home clash against strugglers Aston Villa, the 30 year-old veteran will really take advantage of the defensive tactics deployed by his opponents and grab a couple of goals during the process.
I have a feeling City is not going to win their remaining games prettily, but with the graceful Silva still out, Touré will prove to be the chief architect, and the most qualified one really, to supply chances for City's lethal strikeforce.
Aguero still looks rather shaky after coming back from injury, but he should be more comfortable now after going through a week's worth of practice. With Edin Dzeko in good form as well, manager Manuel Pelligrini will likely pair the duo up once again, so the Argentinean wouldn't have to worry much about the off-color Alvaro Negredo. I'm picking Aguero over Dzeko because it'll be more likely, and logical, this time round for Dzeko to act as a holding striker and provide either Aguero or Touré with an abundance of scoring opportunities.
With Liverpool slipping unexpectedly against Chelsea last week, the title is now City's to lose. I don't think these two central figures will allow such an golden opportunity to slip past like that.
A Manchester United Defender (Patrice Evra, Phil Jones)
– Team: Manchester United
– Position: Defenders
– Value: £6.5m, £5.9m
– Selected by: 10.4%, 2.4%
– Total score: 138, 83
– Points from last 4 games: 11 (avg. 6.5 ppg, didn't feature in 2 games), 18 (avg. 4.5 ppg)
– Remaining Fixtures: Sunderland (H), Hull City (H), Southampton (A)
We've talked about United's offense just now, so let's talk some defense.
United are the go-to team from Gameweek 36 onwards, who are expected to kick into decent gears and get some favorable scorelines to at least end a dreadful season on a somewhat positive note.
When a team's offense is functioning and performing tremendously well, it's usually because the defense doesn't look like it's going to concede anytime soon. So what does this mean? Get all the United defenders you can afford, or have in your team (max. 3 players from the same team are allowed in your roster), because it's time to get some serious points.
United's opponents Sunderland and Hull City don't really look especially capable of scoring against a rejuvenated Red Devils side at Old Trafford, so the defense will all stand to benefit in all of United's remaining fixtures, who are all conveniently played at home.
Firstly, the centerbacks are often subjected to rotation, and with Rio Ferdinand and Nemanja Vidic "disadvantaged" with their aging performances, and their replacements Jonny Evans and Chris Smalling pretty unrealible and inexperienced, it's only logical to move forth to the wingbacks.
Patrice Evra and Phil Jones have turned in decent performances the past couple of weeks. especially Jones', whose shifts in defense are suggesting at a developing maturity level. Even though the former is more experienced, more calm and less rash, I feel Phil Jones will be a better choice than Evra due to their relatively steep price difference.
Usually in defense, the points difference between an expensive player and a cheaper teammate aren't usually that huge, even though they're positioned in different areas of the defense. Sure, there are exceptions, but in the long run, it's not worth it to splurge an extra half a million pounds or so to gain that rare advantage over your league rivals, especially when the funds save could get you a better and more in-form player.
To play it safe, you can consider purchasing goalkeeper David De Gea (£5.8m), but he'll likely be making only a few saves in his remaining matches, so expect six and seven point performances in United's remaining matches.
---
// Players You Should Potentially Buy
Connor Wickham
– Team: Sunderland
– Position: Forward
– Value: £4.7m
– Selected by: 1.6%
– Total score: 49
– Points from last 4 games: 39 (avg. 9.75 ppg)
– Remaining Fixtures: Manchester United (A), West Bromwich Albion (A), Swansea City (H)
The extremely talented Connor Wickham has suddenly found his scoring boots, after scoring on five occasions and assisting once in his past three games. Not bad for someone who cost only £4.6m at that time.
Although Sunderland will be facing strong oppositions in the form of Manchester United and West Bromwich Albion (not exactly strong, but negative and stubborn) in their next two matches, without the crucial home advantage.
The Black Cats however do have quite a decent away form, having drew against City and claimed the scalp of a stunned Chelsea side, after a narrow 2-1 defeat against Liverpool, a 3-0 romp over Newcastle United and a 4-1 victory against strugglers Fulham.
No one expected their, to be honest, unbelievable exploits against the Blues and the Citizens. Who knows, maybe they'll pull off another surprise over United. This is soccer. Anything can happen.
Likewise in the West Brom game, it'll be hard to carve open the defense of such a stubborn and negative team, but I expect at least a goal from this match. In the final round of fixtures against Swansea, I expect Sunderland to really go all out to avoid relegation altogether, so I'm expecting another goal from the 21 year-old youth international.
It's kinda a gamble to field him against unfavorable opponents, but a double round of fixture means that he'll likely end up with a better point tally than an average midfielder playing only one game. However, at just £4.7m, it's quite a safe calculated risk as the difference in points will not really be steep considering that he'll almost be guaranteed of four points (excluding performance incentives), compared to a possible four to six for an average performing midfielder.
What do you have to lose?
---
Captain Who? Wayne Rooney.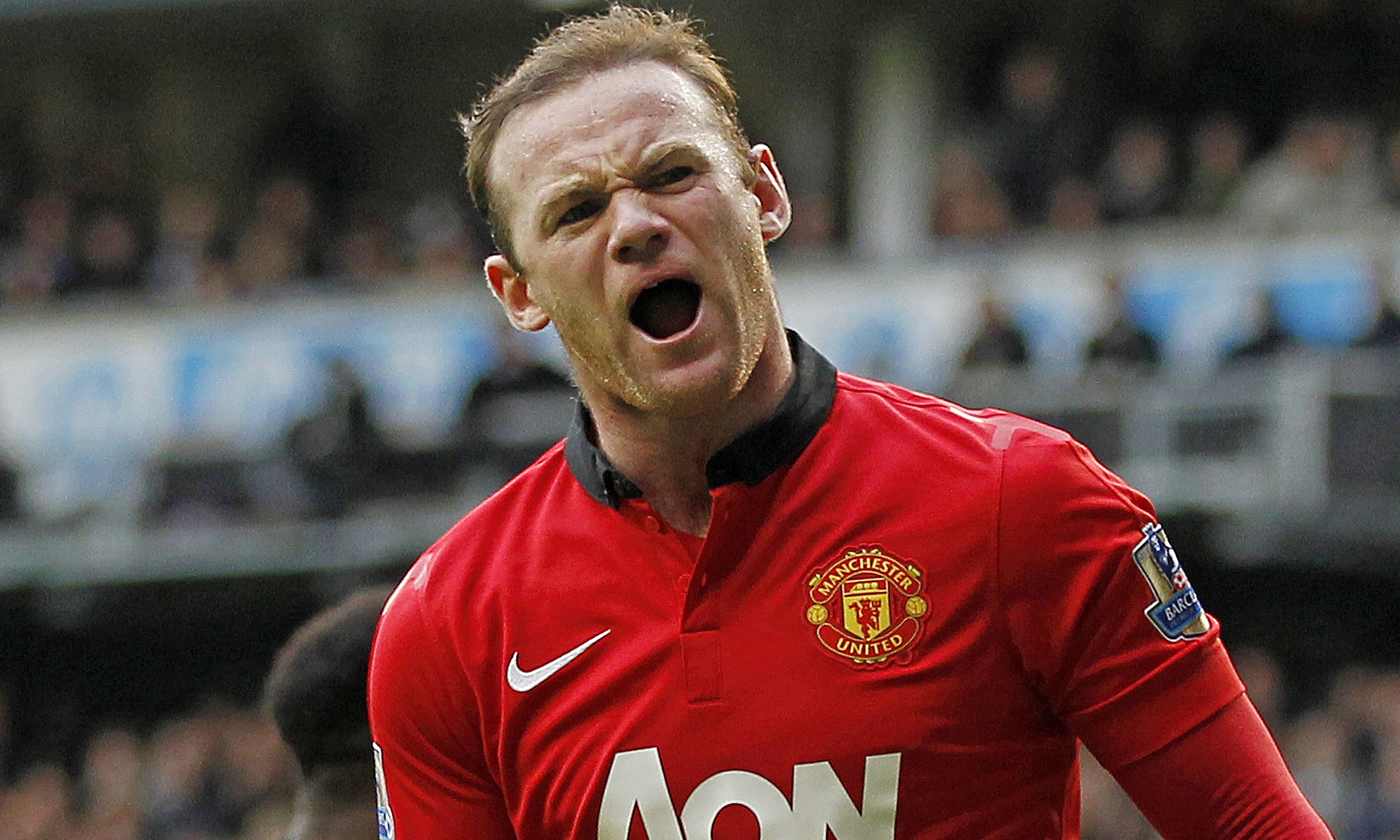 United will be facing against Sunderland and Hull, teams not known for scoring, and for conceding little as well. Both games will also be played at Old Trafford, giving Rooney and co. a massive home advantage. Hence, it's just plain logic why you have to captain him. If logic isn't the thing for you, please, by all means, follow your heart. Deep down I'm quite convinced that Rooney will not perform especially well, but the explanation behind the glaring logic is just too tempting to even try and refute.
Here are some other suggestions you might want to consider if you don't think Rooney is a good fit for the captain's armband this week. or if you don't have the English striker in your team:
–  Juan Mata (Manchester United) vs Newcastle United (home), Hull City (home)
– Sergio Agüero /  Yaya Touré (Manchester City) vs Everton (away), vs Aston Villa (home)
Anyway, the match against Newcastle will bound to have plenty of goals in store. Arsenal have a positive, or negative, depending on how you look at it, habit of finishing their seasons strongly, With a easy schedule as mentioned above, it looks like the tradition wouldn't be changing any time soon.
Newcastle have only scored two goals in their last seven league games, both which came from games against lower opposition. Against a pumped up Arsenal side who are desperate to finish the season on a strong note, it looks like their defense, which have conceded 15 times during the same period of time, are going to be torn apart yet again.
Giroud will very likely be involved in the playmaking this time round, Suárez is facing against Chelsea, who will unquestionably go all out in this crucial must-win game, and Agüero is playing Palace at Selhurst Park, so coupled with home advantage, I'm going for Podolski to continue his rich vein of form as of late.
If you do not have the 28 year-old forward in your team, or simply disagree with the selection per se, here are some other suggestions you can consider as well:
– Aaron Ramsey (Arsenal) vs Newcastle United (home)
– Wayne Rooney (Manchester United) vs Norwich City (home)
– Sergio Agüero /  Yaya Touré (Manchester City) vs Crystal Palace (away)
Last week's recommendations:
– Yaya Touré, Manchester City: 28 points
– Wayne Rooney, Manchester United: 26 points
– Lukas Podolski, Arsenal: 2 points
– Aaron Ramsey, Arsenal: 2 points
– Sergio Agüero, Manchester City: 2 points
Who are your must-buy players in Gameweek 37? Let me know in the comments section below! All the best guys!